ClimAccelerator provides you with the professional resources, knowledge and network you need to successfully kickstart and scale your solution.
Additionally, our Climate Impact Framework aids in documenting your climate potential credibly. It presents climate impact indicators alongside financial key performance indicators, making it easier for potential investors to see how they can maximise the climate impact return on their investment and ensure they're supporting start-ups with validated potential.
Benefits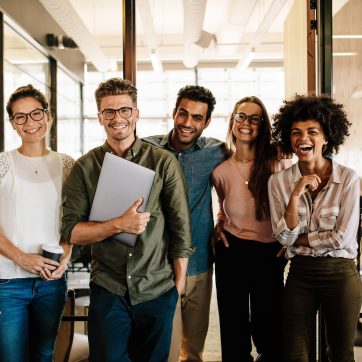 Start-up benefits
Coaching, mentoring, and peer-to-peer learning
Financial support
A worldwide network of industry, education and research partners
Exposure to customers, partners and investors
Support in estimating and validating your climate impact
Access to different investment opportunities, e.g. ClimAccelerator marketplace
How it works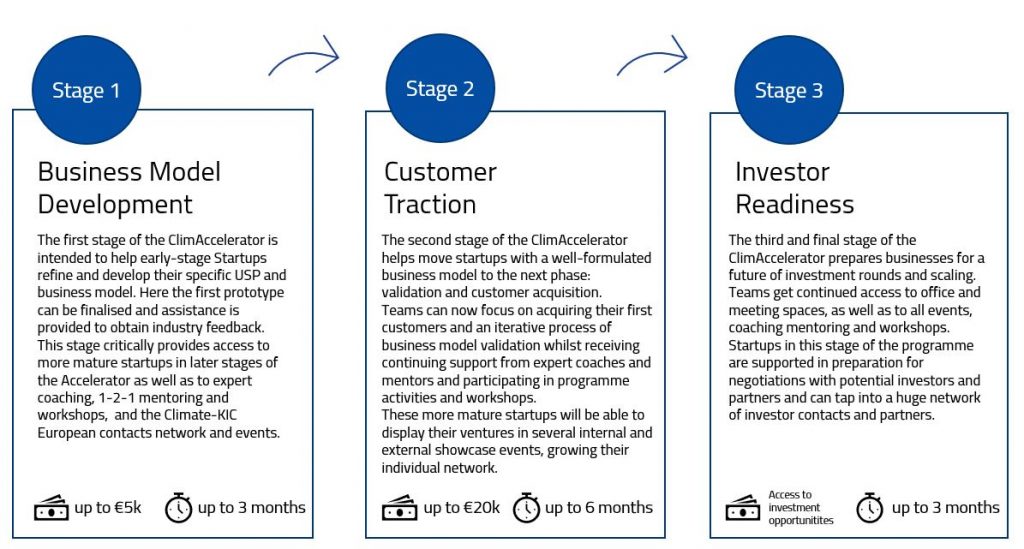 Please note: General information as reference, offer may differ in some programmes.
Active programmes
Please refer to our partners' websites for application criteria and more information.
Status
Programme Name
Thematic focus
Geographical focus
Website
Application Deadline
Lead Partner(s)
Call for Start-ups
Beyond ClimAccelerator
Cleantech
Croatia, the Czech Republic, Greece, Serbia and Slovenia
Website
Serbia & Croatia call for stage 1: 15 October
Impact Hub Praha
Call for Start-ups
Poland ClimAccelerator
Cleantech
Poland
Website
31 October 2022
Accelpoint
Call for Start-ups
Black Sea ClimAccelerator
Cleantech
Romania and Bulgaria
Website
Bulgaria :
Stage 3: 30 Sept
Impact Hub Bucharest
Call for Start-ups
Built Environment Circular ClimAccelerator
Built Environment
Europe
Website
19 September 2022
GreenTech Innovation Hub
Call for Start-ups
Carbon Removal ClimAccelerator / CDR ClimAccelerator
Carbon Removal
Europe
Website
5 September 2022
TU Delft, ETH Zurich & PPIS
Call for Start-ups
East Mediterranean ClimAccelerator
Cleantech, Climate Resilience
Turkey, Lebanon, Jordan, Israel, Oman, Saudi Arabia, Bahrain
Website
31 August 2022
Viveka - A Full Service Accelerator
Call for Start-ups
Nigeria ClimAccelerator
Cleantech
Nigeria
Website and Application Site
31 August 2022
InquMax Incubator
Preparation
Chile ClimAccelerator
Cleantech
Chile
to be confirmed
to be confirmed
Savia Ventures
Preparation
Now Sprint ClimAccelerator
Cleantech, Agriculture
Turkey, Sudan, Baltics
to be confirmed
Now Sprint Accelerator
Preparation
Green Transport ClimAccelerator
Transport and Logistics connected to Cleantech
United Kingdom
Website
to be confirmed
Bikely
Preparation
Morocco ClimAccelerator, Gabon ClimAccelerator, Ivory Coast ClimAccelerator, Congo ClimAccelerator
Cleantech
Morocco, Gabon, Ivory Coast, Congo
Website
to be confirmed
Bridgizz
Preparation
Pakistan ClimAccelerator
Cleantech
Pakistan
Website
to be confirmed
Cleantech Republik - Stimulus
Preparation
South Asia ClimAccelerator
Cleantech
India, Sri Lanka, Maldives, UAE
Website
to be confirmed
Climate Collective
Preparation
Kazakhstan ClimAccelerator
Cleantech
Kazakhstan
Website
to be confirmed
Deutsch Kazakh University
Preparation
Diverse African ClimAccelerators
Cleantech
Ghana, Ethopia, Somalia, ...
Website
to be confirmed
Growth Africa
Preparation
Eastern US ClimAccelerator
Cleantech
USA, East-Coast
soon
to be confirmed
Joseph James
Preparation
Women in Botswana ClimAccelerator
Cleantech
Botswana
n/a
to be confirmed
Leiso Business Labs
Preparation
South Africa ClimAccelerator
Cleantech
South Africa
Website
to be confirmed
Sarebi
Preparation
Botswana ClimAccelerator
Cleantech
Botswana
Website
to be confirmed
Sustainable Cities Africa
Preparation
Fight Deforestation ClimAccelerator
Deforestation, Cleantech
Nigeria
Website
to be confirmed
Vatebra Tech Hub

Preparation
Rwanda ClimAccelerator, Tunisia ClimAccelerator, Tanzania ClimAccelerator, Namibia ClimAccelerator
Cleantech
Rwanda, Tunisia, Namibia, Tanzania
Website
to be confirmed
Westerwelle Foundation
Preparation
Egypt ClimAccelerator
Cleantech
Egypt
Website
to be confirmed
You Think Green Egypt (YTG)
Preparation
Data Visualization in UK ClimAccelerator
Climate Resilience through data visualization
UK
Website
to be confirmed
BAR Associates
Execution
MED ClimAccelerator
Cleantech; 10 Impact Goals
Portugal, Cyprus, Malta
Website
done
Building Global Innovators (BGI)
Execution
Baltics & Slovakia ClimAccelerator
Cleantech
Latvia, Estonia, Lithuania and Slovakia
Website
done
Riga Technical University
Execution
Clean Cities ClimAccelerator
Clean Cities
Europe
Website
done
Technical University of Madrid and Impact Hub Vienna
Execution
New European Bauhaus ClimAccelerator
NEB and climate innovations
Europe
Info
done
EIT Climate-KIC, Impact Hub Vienne, UPM - Universidad Politecnica de Madrid
Execution
Circular Cities ClimAccelerator
Cities
Europe
Website
done
Trinity College, DTU, Luvent Consulting
Execution
Colombia ClimAccelerator 2022
Cleantech
Colombia
Website
done
Cleantech Hub Colombia
Execution
Cambridge ClimAccelerator
Cleantech
Cambrige and London, UK
Website
done
Allia Future Business Centre
Execution
CircularInnoBooster - CirCoAX - ClimAccelerator
Fashion & Reduction of Emissions
Europe
Website
done
IED / Human Nation Earth
Execution
Amazon Launchpad Sustainability Accelerator
Sustainability Products
specific countries in Europe
Website
done
Amazon Launchpad, EIT Climate-KIC
Execution
Tajikistan ClimAccelerator
Cleantech
Tajikistan
Website
done
ACTED
Execution
China to Germany ClimAccelerator
Cleantech
China
n/a
done
Tao Venture Partners & Tsing Capital
Execution
Exoo|23™ Radical ECO-TOURISM ClimAccelerator
Radical ECO-TOURISM
Italy, Austria, Slovakia, Germany, Greece - Europe
Website
done
X23- The Innovation Bakery
Execution
ClimAccelerator Companion
General, Cleantech Vertical
Austria
Website
done
tech2B Inkubator GmbH
Execution
CILIFO ClimAccelerator
Firefighting Open Innovation
Spain, Portugal
Website
done
Finnova
Execution
ClimAccelerator Companion
Cleantech
Spain, Europe
Website
done
Mentor Day
Call for Start-ups
Italy ClimAccelerator
Cleantech
Italy
Website
To be confirmed
Growers for Change
done
Adaptation & Resilience ClimAccelerator
Adaptation & Resilience
Africa and Asia
Website
done
Climate Collective
done
Africa ClimAccelerator
Cleantech
Africa
Website
done
GrowthAfrica, Carbon Trust
done
Colombia ClimAccelerator 2021
Cleantech
Colombia
Website
done
Cleantech HUB Colombia
done
Irish Aid Accelerator in Tanzania
Cleantech
Tanzania
Website
done
Anza Entrepreneurs
done
Irish Aid Accelerator in South Africa
Cleantech
South Africa
Website
done
Behold SA, Indalo Inclusive SA NPC and Water Financial
done
Irish Aid Accelerator in Vietnam
Cleantech
Vietnam
Website
done
CCS - Center for Creativity and Sustainability
done
Irish Aid Accelerator in Mozambique
Cleantech
Mozambique
Website
done
Ideialab
done
Irish Aid Accelerator in Kenya
Cleantech
Kenya
Website
done
Kenya Climate Innovation Center
done
Irish Aid Accelerator in Nigeria
Cleantech
Nigeria
Website
done
Nigeria Climate Innovation Center
done
Irish Aid Accelerator in Uganda
Cleantech
Uganda
Website
done
Renewable Energy Business Incubator
Funding
Climate Marketplace
Is your start-up actively fundraising? Take a look at our friends at Climate Marketplace, the company that gives start-ups access to thousands of cleantech investors all over the globe.